Search alternative destinations
or call 646 360 1200 | 917 477 7500
Boston, MA Packages
You know the lyrics, "I think I'll go to Boston," we think you should too!
Take an epic road trip through New England's best destinations!
Boston, MA
Welcome to Boston, Massachusetts, a quintessential blend of colonial history and cutting-edge innovation. From the charming cobblestones of Beacon Hill, to the civic landmarks along the Black Heritage Trail and Freedom Trail, to the iconic grounds of Harvard University and Fenway Park, Boston is a treasure trove of Americana. Fun if by land and fun if by sea, Boston is an ideal destination for your next vacation. Explore diverse neighborhoods, enjoy an eclectic array of performing arts and special events, shop in chic boutiques and high-end malls, fall into a foodies' paradise, find the perfect hotel, and discover the true essence of BostonUSA, a cosmopolitan hub where tradition and innovation interact every day.
Places of Interest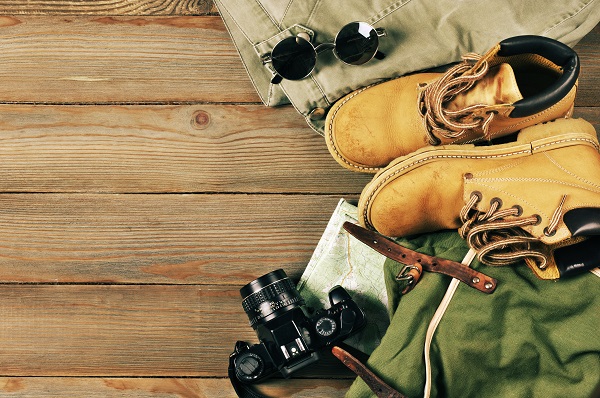 Freedom Trail
Follow this 2.5-mile red line as it meanders through the streets of Boston and intersects with 16 major historical sites along the way. Start at the beginning, middle, or end of the trail, and stop at such prominent locations as the location of the Boston Massacre, the Paul Revere House, and the Old North Church.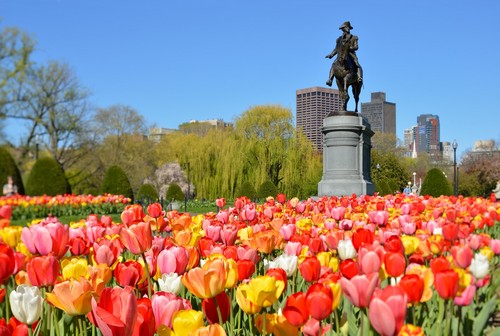 Boston Common
Located downtown, this public park was established in 1634, and is the oldest urban park in the United States. Originally, the Common was designed to let local livestock graze. But today, the 50-acre space is used primarily for picnicking, strolling, cycling, and people-watching.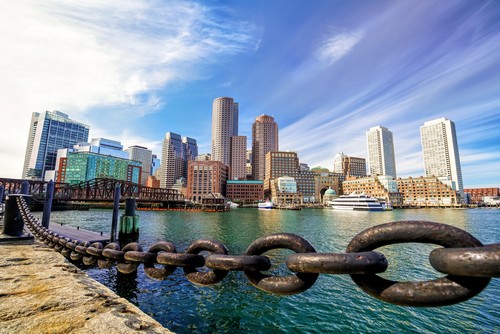 Boston Harbor
Filled with fishing boats, whale-watching vessels, sailboats, and fancy yachts, the Boston Harbor has always been the epicenter of activity in Beantown. Stand and look out over the Harbor from the same point that the Boston Tea Party took place almost 250 years ago or take a ferry to explore the network of Boston Harbor Islands.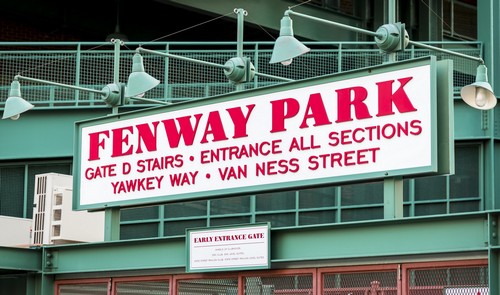 Fenway Park
Hallowed ground to baseball purists, this cozy, quirky park has been the Boston Red Sox home field since 1912. The most distinctive feature of this classic baseball park is the 37-foot-tall left field wall, known as the "Green Monster."
Weather
Boston's New England location means you'll enjoy pretty temperate summers. Average highs hover in the 70s, though temperatures will occasionally creep into the 80s. But this is also one of the most expensive times to visit, as many tourists partake in baseball games, outdoor concerts and festivals. In the fall, average daytime temperatures will range between the low 60s and low 70s. You'll find fewer tourists, but hotel rates will remain relatively high until November. If you're a foodie, consider visiting during this time since several culinary events fill the calendar. Once wintertime rolls around, expect plenty of snow and average temperatures to sit between the 20s and 50s. If you travel this time of year, pack warm clothes. Springtime is beautiful in Boston, and yet the temperatures are just bearable – averages sit in the 30- to 60-degree range. But wearing layers – and the knowledge that you scored a decent deal on your hotel – will go a long way to making you feel warm and toasty.