Search alternative destinations
or call 646 360 1200 | 917 477 7500
The Lofts Boutique Hotel
Discover The Lofts Boutique Hotel in the heart of the Knysna Lagoon. Knysna in is the centre of The Garden Route. Thesen Island is in the centre of the Knysna Estuary and The Lofts Boutique Hotel is in the centre of it all. What better way to enjoy Knysna than a stay on an island, located not only in the heart of the Knysna Lagoon, but also in a Blue Flag Marina in the very centre of Knysna? The unique location of this Boutique Hotel on Thesen Harbour Town sets the tone for a tranquil, revitalising, relaxing and refreshing stay on the island. Driving over the venetian style bridge you are transported to the world of nature, lending an invisible and intangible flavour to your holiday experience at The Lofts Boutique Hotel. Set within the remodelled timber frame of the old Knysna boatbuilding shed, the hotel rooms take one's breath away with their industrial refurbishment and design. This fresh, smart-casual approach is far from the ordinary, and caters well to every desire.
Rooms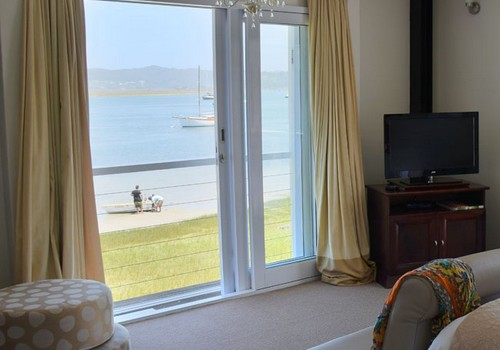 Exclusive Lagoon Suite
The design incudes: A large bedroom with sliding doors opening up on the western & northern side with an open-plan bathroom and a separate toilet.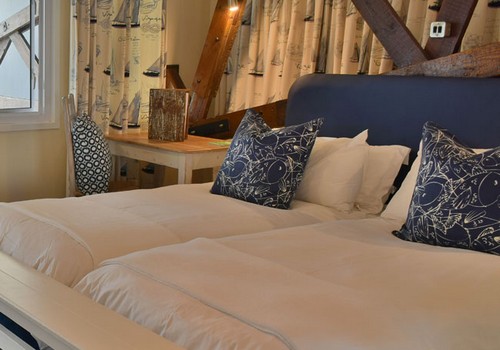 Luxury Loft Room
The design includes: A large bedroom, balcony with 2 sun-loungers, a bathroom with either a shower, bath or a shower/bath, hand basin and toilet.
Two-Bedroom Apartment
The design includes: A 2-bedroomed unit with 2 bathrooms, a comfortable lounge area and a modern kitchenette where you can prepare any meal and the dining area seats 4 people.