Paris & Cote D'Azur
Explore the best that France has to offer in this Paris And Cote D'Azur package. Start your trip in the wonderful Paris exploring all the sites like the Eiffel Tower, the Louvre Museum and tickets to Moulin Rouge. Once you have finished in Paris, you will head down to the Cote D'Azur also known as the French Riviera, for a different side of France. You will start in Saint Tropez and live like a celebrity. Who knows, maybe you'll even see one while you're there! After Saint Tropez, you will travel to Cannes. Although the Cote D'Azur is along the sea, Cannes is the only destination with a beach. Here you can catch some sun and sand and maybe partake in some water sports if you are feeling up for it. Once your time in Cannes is up, head to the final destination, Monte Carlo. Here you can take a half-day tour of Monaco where the grand prix takes place and also book tickets to the famous Monte Carlo ballet to end your trip on a great note.
Destinations visited
Paris
For all the talk of its fêted spring, Paris is truly a perennial city. In Fall and Winter, when tourist crowds are sparse, the city's cafés still hum and the streets throng with natives — well-dressed, portfolio-armed and back to work, refreshed from their own summer escapes. Running on equal parts pride and panache, this everyday Paris — found in sidewalk cafés or in the bookstalls lining the Seine — is equally exciting as any of the city's grand monuments. Centuries of cultural and political development have brought Paris a variety of museums, theatres, monuments and architectural styles.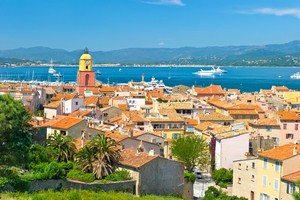 Saint-Tropez
Saint-Tropez is a coastal town on the French Riviera, in the Provence-Alpes-Côte d'Azur region of south-eastern France. Set on the lovely blue waters of the Mediterranean, Saint-Tropez rocketed into the world's attention in the 50's with one Brigitte Bardot frolicking along the now popular sandy beaches of the Baie de Pampelonne, transforming this peaceful fishing village into a sizzling jet-setter favourite seemingly overnight. Tropezian beaches are located along the coast in the Baie de Pampelonne, which lies south of Saint-Tropez and east of Ramatuelle. Pampelonne offers a collection of beaches along its five-kilometre shore. Each beach is around thirty metres wide with its own beach hut and private or public tanning area. From exploring boutique shops, to relaxing below colourful awnings at cute cafe's and even dancing the night away at the Caves du Roy, perhaps the most famous nightclub in France, Saint -Tropez is the place to be when summer comes.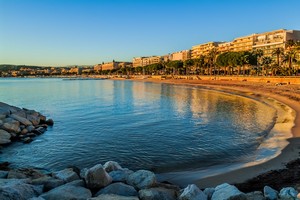 Cannes
Enjoy this exuberant and lively seaside destination along with starlets and paparazzi alike during its world famous film festival, when Cannes is thrown into a glamour and pizzazz only it seems to be able to exude. Explore the graceful curve of wave-washed sand, streets peppered with chic restaurants and prestigious private beaches. Stroll along La Croisette Boulevard, the renowned waterfront promenade strewn with palm trees and fancy boutiques. Enjoy a meal at La Palme d'Or, the town's most prized eatery, and spend days lounging around the pool of your World's Ultimate Hotel in Cannes. Renowned for its luxury boutiques and designer fashion, forgetting your credit card would be a big mistake when visiting Cannes. As Cannes is quite central in location within the glam of the French Riviera, it is one of the best destinations to use as a base and engage in tours, activities and exploration of this beautiful and magical part of France from there.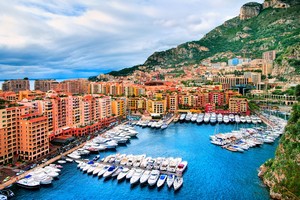 Monaco
The principality of Monaco is a tiny city-state on the Mediterranean Sea and surrounded by France, although the Italian Riviera lies a few kilometres farther east. The country is divided into four areas: Monaco-Ville (the old city), the Condamine (port quarter), Monte-Carlo (business and recreation), and Fontvieille (recreation and light industry). With no natural resources to exploit other than its location and climate, the principality has become a resort for tourists and a tax haven for businesses. Monaco is six times the size of the Vatican and the world's most densely populated independent country. It's also famous for its annual Formula 1 Grand Prix, held every year in May since 1929. Despite its prodigious wealth, Monaco itself is a long way from the prettiest town on the French Riviera: it's basically an ode to concrete and glass, dominated by high-rise hotels and apartment blocks that rise into the hills like ranks of dominos, not to mention an utterly bewildering street layout that seems solely designed to confound lowly pedestrians.
Included in this package
Our packages have been designed to deliver matchless experiences while catering to your every need. Local flights, airport transfers, luxury accommodation and hand-picked activities at each destination are included in our base packages. You can choose to include international flights or edit or remove any of the included items when requesting an online quotation. A price and full day-by-day itinerary is provided on the next screen when an online quotation is requested.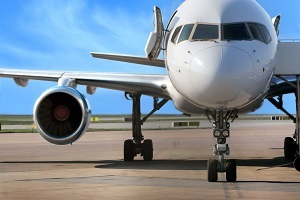 Local Flights
This package includes Economy Class flights between destinations within the package. You can also choose to fly in ultimate comfort by upgrading to Business or First Class at an additional cost. Flights from your home and back can be added when requesting an online quote.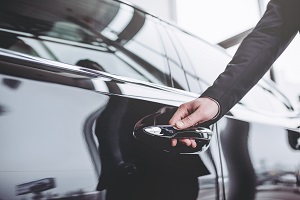 Airport Transfers
Airport transfers to and from your chosen World's Ultimate hotel will be provided in a private vehicle. Some destinations also offer optional helicopter, speedboat or seaplane transfers.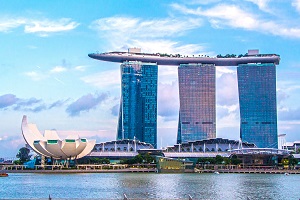 World's Ultimate Hotels
We offer a carefully selected portfolio of Four and Five Star Hotels and Resorts to ensure that you experience personalized service and luxury accommodation of a high standard. Other hotels or resorts of your choice not featured on our website can be quoted on, should you wish.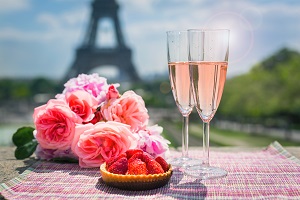 Hand-Picked Activities
To complete your travel package, you can choose to add leisure, dining, adventure and entertainment activities. We want to ensure that you experience the highlights that our destinations have to offer.