Highlights Of Croatia
Discover Eastern Europe's magic and charm in Croatia! Croatia is an Eastern European country with a long coastline on the Adriatic Sea. Encompassing more than a thousand islands, it's also crossed by the Dinaric Alps. Customize the trip to meet your exact requirements.
Destinations visited

Zagreb
Zagreb, Croatia's northwestern capital, is distinguished by its 18th- and 19th-century Austro-Hungarian architecture. At its center, Upper Town is the site of the Gothic, twin-spired Zagreb Cathedral and 13th-century St. Mark's Church, with a colorfully tiled roof. Nearby is pedestrian-friendly Tkalciceva Street, lined with outdoor cafes. Lower Town has the main square, Ban Jelacic, plus shops, museums and parks. Zagreb is a vibrant city of around 800,000 people (metropolitan area: 1,200,000). The city boasts a charming medieval 'old city' with architecture and cobbled streets reminiscent of Vienna, Budapest, Prague and other Central-European capitals. In 2011 it was visited by over 700000 tourists, mainly from Austria, Germany and Italy.

Split
Split, a town on Croatia's Dalmatian Coast, is known for its beaches and the fortress like complex at its center, Diocletian's Palace, erected by the Roman emperor in the 4th century. Once home to thousands, its sprawling remains include more than 200 buildings. Within its white stone walls and under its courtyards are a cathedral and numerous shops, bars, cafes, hotels and houses. Split is great for nightlife, especially in spring and summer. The palace walls are generally throbbing with loud music on Friday and Saturday nights, and you can spend the night wandering the maze-like streets, discovering new places. After the palace bars go quiet at 1am (as people live within the palace walls), the beaches to the east have open-air bars and clubs that stay open till the wee hours. Split is big enough to have an interesting dining scene which isn't limited to the cookie-cutter konobas (taverns) and pizzerias that are the norm in Dalmatia.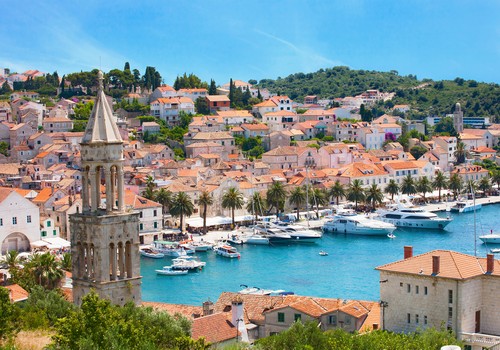 Hvar
Long, lean Hvar is vaguely shaped like the profile of a holidaymaker reclining on a sunlounger, which is altogether appropriate for the sunniest spot in the country (2724 sunny hours each year) and its most luxurious beach destination. Hvar, a Croatian island in the Adriatic Sea, is best known as a summer resort. Highlights of the port town Hvar include its 13th-century walls, a hilltop fortress and a main square anchored by the Renaissance-era Hvar Cathedral. The island also features beaches such as Dubovica and inland lavender fields. Boat excursions serve the nearby Pakleni Islands, which have secluded beaches and coves.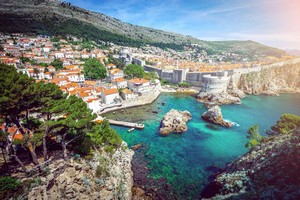 Dubrovnik
Dubrovnik is a city in southern Croatia fronting the Adriatic Sea. It's known for its distinctive Old Town, encircled with massive stone walls completed in the 16th century. Its well-preserved buildings range from baroque St. Blaise Church to Renaissance Sponza Palace and Gothic Rector's Palace, now a history museum. Paved with limestone, the pedestrianized Stradun (or Placa) is lined with shops and restaurants. Nothing can prepare you for your first sight of Dubrovnik. Lying 216 km (135 miles) southeast of Split and commanding a jaw-dropping coastal location, it is one of the world's most beautiful fortified cities. Its massive stone ramparts and fortress towers curve around a tiny harbor, enclosing graduated ridges of sun-bleached orange-tiled roofs, copper domes, and elegant bell towers. Your imagination will run wild picturing what it looked like seven centuries ago when the walls were built, without any suburbs or highways around it, just this magnificent stone city rising out of the sea.
Included in this package
Our packages have been designed to deliver matchless experiences while catering to your every need. Local flights, airport transfers, luxury accommodation and hand-picked activities at each destination are included in our base packages. You can choose to include international flights or edit or remove any of the included items when requesting an online quotation. A price and full day-by-day itinerary is provided on the next screen when an online quotation is requested.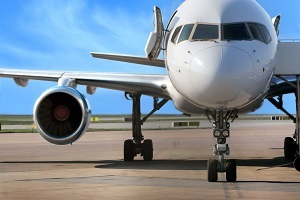 Local Flights
This package includes Economy Class flights between destinations within the package. You can also choose to fly in ultimate comfort by upgrading to Business or First Class at an additional cost. Flights from your home and back can be added when requesting an online quote.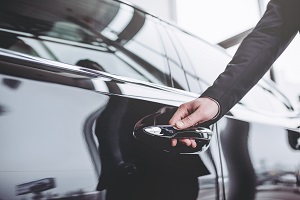 Airport Transfers
Airport transfers to and from your chosen World's Ultimate hotel will be provided in a private vehicle. Some destinations also offer optional helicopter, speedboat or seaplane transfers.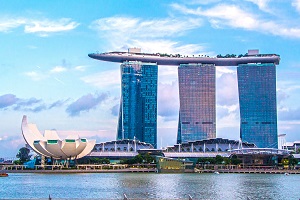 World's Ultimate Hotels
We offer a carefully selected portfolio of Four and Five Star Hotels and Resorts to ensure that you experience personalized service and luxury accommodation of a high standard. Other hotels or resorts of your choice not featured on our website can be quoted on, should you wish.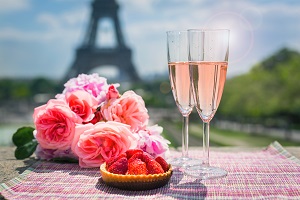 Hand-Picked Activities
To complete your travel package, you can choose to add leisure, dining, adventure and entertainment activities. We want to ensure that you experience the highlights that our destinations have to offer.