Search alternative destinations
or call 646 360 1200 | 917 477 7500
Seattle, WA Packages
There is much more to Seattle than rain and Starbucks!
Seattle, WA
Seattle, a city on Puget Sound in the Pacific Northwest, is surrounded by water, mountains and evergreen forests, and contains thousands of acres of parkland. Washington State's largest city, it's home to a large tech industry, with Microsoft and Amazon headquartered in its metropolitan area. The futuristic Space Needle, a 1962 World's Fair legacy, is its most iconic landmark.
Places of Interest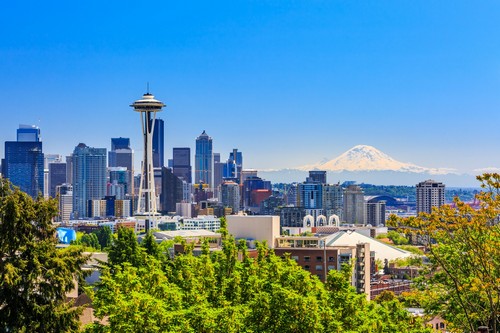 Mount Rainier
Ascending to 14,410 feet above sea level, Mount Rainier stands as an icon in the Washington landscape. An active volcano, Mount Rainier is the most glaciated peak in the contiguous U.S.A., spawning five major rivers. Subalpine wildflower meadows ring the icy volcano while ancient forest cloaks Mount Rainier's lower slopes. Wildlife abounds in the park's ecosystems. A lifetime of discovery awaits. Hiking, backcountry skiing, photography, and camping are popular activities in the park. Hiking trails, including the Wonderland Trail—a 93-mile or 150-kilometre circumnavigation of the peak, provide access to the backcountry. Mount Rainier is also popular for winter sports, including snowshoeing and cross-country skiing.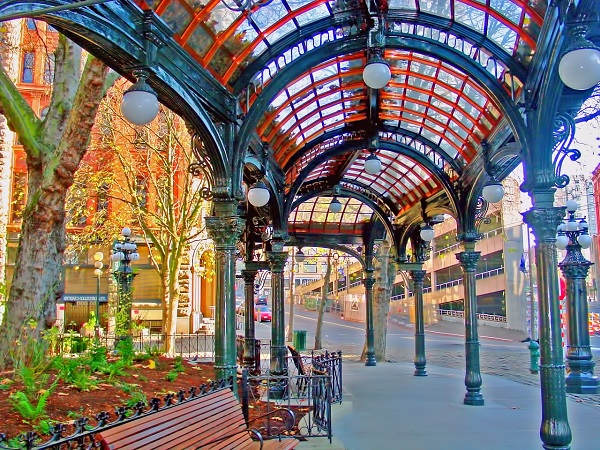 Pioneer Square
Art galleries, coffee shops and trendy bars fill Pioneer Square's late-1800s Romanesque Revival buildings. Tourists explore subterranean streets on the guided Underground Tour and learn about Seattle's roots at the Klondike Gold Rush National Historical Park. Office workers unwind in secluded Waterfall Garden Park or grab lunch from food trucks at Occidental Square, a plaza with bistro tables and bocce courts.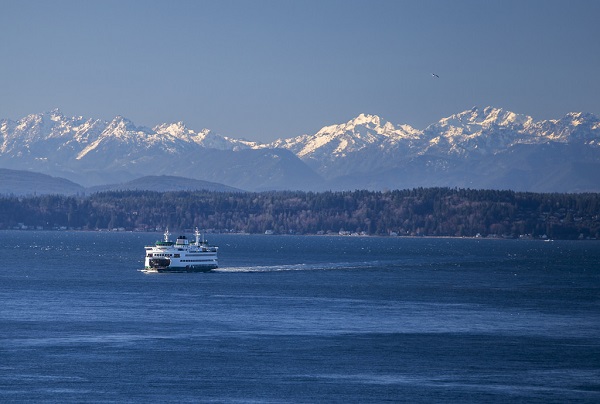 Puget Sound
Puget Sound is a sound along the northwestern coast of the U.S. state of Washington, an inlet of the Pacific Ocean, and part of the Salish Sea. It is a complex estuarine system of interconnected marine waterways and basins, with one major and two minor connections to the open Pacific Ocean. The term "Puget Sound" is used not just for the body of water but also the Puget Sound region centered on the sound. Major cities on the sound include Seattle, Tacoma, Olympia, and Everett, Washington. Puget Sound is also the third largest estuary in the United States, after Chesapeake Bay in Maryland and Virginia, and San Francisco Bay in northern California.
Pike Place Market
Pike Place Market is a public market overlooking the Elliott Bay waterfront in Seattle, Washington, United States. The Market opened August 17, 1907 and is one of the oldest continuously operated public farmers' markets in the United States. It is a place of business for many small farmers, craftspeople and merchants. Named after the central street, Pike Place runs northwest from Pike Street to Virginia Street. The Market is built on the edge of a steep hill and consists of several lower levels located below the main level. Each features a variety of unique shops such as antique dealers, comic book and collectible shops, small family-owned restaurants, and one of the oldest head shops in Seattle. The upper street level contains fishmongers, fresh produce stands and craft stalls operating in the covered arcades. Local farmers and craftspeople sell year-round in the arcades from tables they rent from the Market on a daily basis, in accordance with the Market's mission and founding goal: allowing consumers to "Meet the Producer".
Space Needle
The Space Needle is an observation tower in Seattle, Washington, a landmark of the Pacific Northwest, and an icon of Seattle. It was built in the Seattle Center for the 1962 World's Fair. The Space Needle has an observation deck at 520 ft (160 m) and the rotating SkyCity restaurant at 500 ft (150 m). The downtown Seattle skyline, as well as the Olympic and Cascade Mountains, Mount Rainier, Mount Baker, Elliott Bay and surrounding islands can be viewed from the top of the Needle.
Weather
Summer is sunny, dry, and warm, with daytime highs generally around 75°F and low humidity. Flights, ferries, and tours all run with greater frequency during this time. Hotel and travel prices will be higher, and availability will turn scarce — make reservations well in advance. Spring and fall, crowds dwindle with the possibility of rain, though the weather is often wonderfully pleasant – especially in May and September – with plenty of sun and daytime highs around 60-70°F. The combination of lower travel prices and the lack of summer sightseers can make these seasons an ideal time to visit Seattle if your plans do not require a guarantee of dry weather. During low season, or winter, tourists generally stay away from Seattle during the colder months. The weather is consistently wet, breezy, and cold (usually around 40-50°F.), so it's not a great time for sightseeing. Museum lovers and those heading to the mountains to ski, however, can find some great deals on airfare and hotel rooms during this period.