Ponta do Ouro & Surrounds
Search alternative destinations
or call 646 360 1200 | 917 477 7500
Ponta do Ouro & Surrounds Packages
Discover the beaches and diving in the south of Mozambique.
Ponta do Ouro & Surrounds
For more than 500 years, visitors have been marvelling at the beauty of the southern Mozambican coastline, and today this area is the most developed part of the country for tourism. From Ponta d'Ouro, with its pounding surf and windswept dunes, to the serene lagoons and shallow coastal lakes between Bilene and Závora, and the legendary beaches of Tofo and Barra, it boasts some of the most beautiful stretches of sand on the continent. It also offers a wealth of cultural highlights. These include the famed timbila (marimba) orchestras of the Chopi people and rich traditional lore, much of which focuses on the old kingdom of Gaza. The colonial-era town of Ponta do Ouro has boomed in popularity in recent years and is the first Mozambique stop on many Southern Africa overland itineraries. Its best asset is its excellent beach: long, wide and surf-pounded. Offshore waters host abundant life, including dolphins, whale sharks and – from July to October – whales. Ponta do Ouro is a town in the extreme south of Mozambique, lying on the Mozambique Channel south of Maputo and just north of the border with South Africa. It is known for its beach, for its dolphins and for its offshore diving and deep-sea fishing.
Five Star Hotels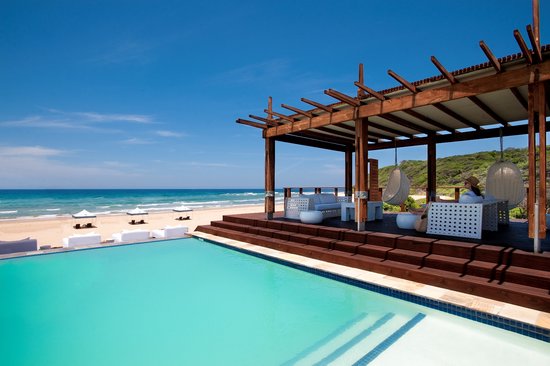 White Pearl
Inspired by the rich coastal biodiversity of the area and beautiful Indian Ocean reefs, the guest areas offer laid-back beachside chic, with spaces designed to relax and enjoy. The striking beach bar, set against a backdrop of white and turquoise, is at the heart of this unmatched beach experience. Nestled in a sheltered bay on Mozambique's Lagoon Coast, poised amongst the dunes on timber stilts, the 22 luxurious suites have been sensitively designed to take advantage of their beautiful natural setting, while protecting the fragile eco-systems beneath them.