Search alternative destinations
or call 646 360 1200 | 917 477 7500
Maputo & Surrounds Packages
Visit Maputo - one of Africa's most attractive capitals!
Maputo & Surrounds
With its Mediterranean-style architecture, waterside setting and wide avenues lined with jacaranda and flame trees, Maputo is easily one of Africa's most attractive capitals. It's also the most developed place in Mozambique, with a wide selection of hotels and restaurants, well-stocked supermarkets, shady sidewalk cafes and a lively cultural scene. The heart of the city is the bustling, low-lying baixa (old town), spreading out north and east from the port. A few kilometres away, the seaside Avenida Marginal is lined with new developments on its inland side, while on the sea side life moves at a more leisurely pace. Maputo is pricier than elsewhere in the country. Yet prices are reasonable and there's enough selection to make it a good destination no matter what your budget. Getting to know the city is a highlight of visiting Mozambique and essential to understanding the country. Don't miss spending time here before heading north.
Four Star Hotels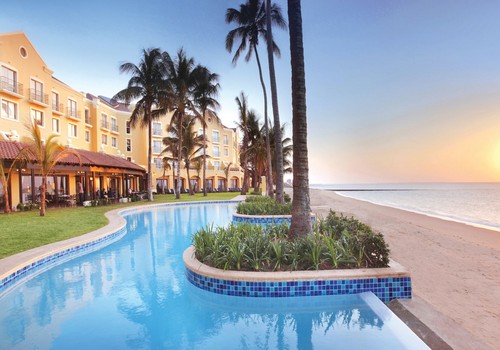 Southern Sun Maputo
A reputation for service excellence in the only on-the-beach hotel in the city, with grand surroundings of mosaiced floors and vaulted wooden ceilings inspired by Maputo's architectural past complemented by familiar and welcoming homely comforts like free-and-fast WiFi and big beds with ocean views. This Maputo hotel's standard-setting amenities invites relaxing and recharging, escaping and exploring or business-as-usual. Comfy beds, climate control, free WiFi, 24-hour room service and concierge attention come as-standard while suite upgrades include extras like Nespresso machines, ocean-view balconies and private lounges.
Five Star Hotels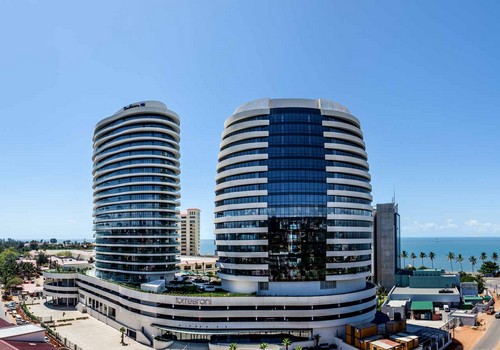 Radisson Blu Hotel & Residence, Maputo
With a pristine location on the prominent beachside avenue running along the Maputo seafront, the Radisson Blu Hotel & Residence boasts scenic views of the Indian Ocean. Less than 10 kilometers from Maputo city center and Maputo International Airport (MPM), this Mozambique hotel is also near business hotspots such as the Joaquim Chissano International Conference Center. You'll also be within easy reach of popular tourist attractions such as Inhaca Island, Maputo Special Reserve, and Kruger National Park. Each of the 256 modern hotel rooms comes with individual climate control and free high-speed Wi-Fi.