Search alternative destinations
or call 646 360 1200 | 917 477 7500
Hwange National Park Packages
Hwange National Park
Hwange, one of the world's last great Elephant sanctuaries, is the largest national park in Zimbabwe. Hwange National Park is in west Zimbabwe. Its grasslands and mopane woods are home to large elephant herds, lions and African wild dogs. In the northwest, animals gather at Mandavu and Masuma dams, where there are concealed lookouts. Bumbusi National Monument includes 18th-century ruins and pre-colonial rock carvings. In the southeast, waterholes include the Nyamandhlovu Pan, with its elevated viewing platform. One of the 10 largest national parks in Africa, and the largest in Zimbabwe at 14,651 sq km, Hwange National Park, pronounced 'Wang-ee', has a ridiculous amount of wildlife. Some 400 species of bird and 107 types of animal can be found in the park, including lions, giraffes, leopards, cheetahs, hyenas and wild dogs. But the elephant is what really defines Hwange, being home to one of the world's largest populations of around 40,000 tuskers. The best time for wildlife viewing is July to October, when animals congregate around the 60 water holes or 'pans' (most of which are artificially filled) and the forest is stripped of its greenery. Maps and information about the park are available at the rangers offices at Main Camp, Sinamatella Camp and Robins Camp. Covering more than 14,600 square kilometers(5,863 square miles) or 1,460,000 hectares it has more animals and a greater variety of species -107- than any other park in the country, and more than 400 species of birds.
Four Star Hotels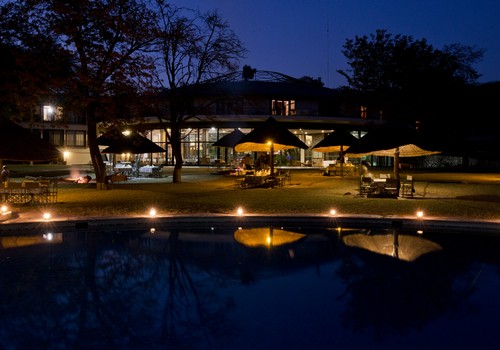 Hwange Safari Lodge
The lodge is only 2 hours' drive from Victoria Falls, a favourite with visitors from all over the world. Home to the world's largest population of the African elephant, including the presidential herd, Hwange boasts an abundance of other wildlife including buffalo, lion, leopard and a host of other species. The prolific birdlife is a must see for the enthusiast with one of the world's most diverse population of raptors. The lodge caters for a diverse range of guests from the lone adventurer to couples, groups, families and tour groups. It offers comfort, modern conveniences and an opportunity to experience the real African wild. Don't forget, a camera is a must!
Five Star Hotels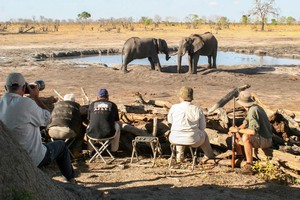 The Hide
Hwange National Park is located in the northwest corner of Zimbabwe and is well known for its large herds of elephants which are famous across Africa. With over 100 species of mammals, you are guaranteed to have a once in a lifetime safari experience that will keep you coming back to Hwange, year after year. Located in a prime position in the Park, The Hide offers a life-enriching safari experience for its guests, from its fantastic game viewing right on your doorstep, to a variety of daily activities to suit everyone and the warm and welcoming staff, who make you feel like family from the minute you arrive.